There are many ways that you can help Lura Turner Homes. If you wish to make a contribution, you can make a direct donation simply by clicking the donate button, below. LTH uses PayPal for online transactions and we pay any fees associated with those transactions. You may also make a donation through our administration office. To do so, please call (602) 943-4789 and we can take your donation via credit card or check.
HELP LURA TURNER HOMES WHEN SHOPPING ONLINE
Shop to Save. Shop to Give. It's that easy.
What is Goodshop? We like to say that we have the most powerful coupons in the world. Not only do we provide the best shopping deals on the internet, but we also make a donation to the nonprofit or school of your choice for almost every purchase you make. That's right: when you shop with Goodshop you don't just save. You also give, at no extra cost.
So, who can I help when I Goodshop? Everyone. Goodshop is connected with over 114,000 nonprofits and schools, which means that you can shop for your cause no matter the scale: whether it be your local animal shelter, or a national cancer research organization. And if, by chance, your nonprofit or school isn't listed, it is pretty easy to add them to the list!
Over the past nine years, we've helped organizations do everything from medical research, to buying books for local libraries, to helping clean up pollution from city rivers. This has only been made possible by you, and the over $13 million dollars that you have helped us raise. So, thank you. How can I get started? Go to www.goodshop.com and register.
HELP LURA TURNER HOMES WHEN SHOPPING AT FRY'S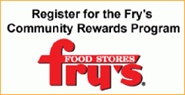 Your Fry's VIP Card is yet another way to support Lura Turner Homes! Go to: www.FrysCommunityRewards.com (or click on the image). Click on sign-in or register. Enter your email and password and click enroll now. Type Lura in the box and hit enter and
select the bubble next to Lura Turner Homes and click Enroll. Once you've enrolled, you'll earn rewards for Lura Turner Homes every time you shop and use your VIP Card! Sign up today!